Landscaping
Landscaping Design and Installation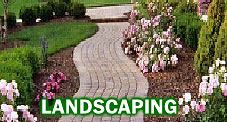 10% off

Landscape Installation

When you call before april 15

For over twenty years, Integrity Landscape, LLC has designed, installed, and maintained some of Metro Detroit's most inviting landscapes. Now, you can enjoy the same high quality and professional installation with 10% off when you call before April 15!

Call 734-453-6773 or click below to find out how affordable a beautiful landscape can be!



We Provide Services to the Following Cities and Towns in MI: